Insite

Dashboards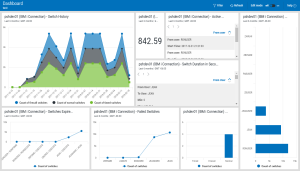 The Dashboard is a feature of the HelpSystems Insite web browser interface. Insite can be downloaded from your User Account page on the HelpSystems website.
The HelpSystems Insite Dashboard can be used to display a visual representation of Authority Broker product activity. See HelpSystems Insite Dashboard Overview in the Insite User Guide for details.
A Dashboard can include any combination of Widgets, which are the individual visual displays of product data (e.g. charts, graphs, and so forth). See Dashboard Widgets in the Insite help for details on creating and editing Widgets. The type of Authority Broker data to include in a widget, such as the number of profile switches over a given time frame, is specified using Assets. See Dashboard Assets for a description of the types of Authority Broker data that can be added to an Insite Dashboard.
You can mix widgets from different products and Data Sources (servers) on the same Dashboard. You can create as many Dashboards as you like.
Dashboards are specific to the profile you used to log on. However, you can share them with everyone or keep them private, as needed. Users logging on with the guest profile can view only those dashboards marked as Guest. For more on the guest profile, see Authentication in the Insite help.